Wine & Culture
The Maison of Truffles and Wine
In the heart of the Parc Naturel Régional of Luberon (Luberon Regional Nature Park), the old, 18th century "Hôtel d'Astier" houses an oenothèque (wine shop) that includes a collection of wines produced within the Parc Naturel. Two half-day workshops are available:
A tasting workshop where you are taken through wine tasting techniques
A "learn about truffles" workshop
Place de L'Horloge 84560 Menerbes
Tel: 04 90 72 38 37- www.vin-truffe-luberon.com
---
The Corkscrew Museum AT THE DOMAINE DE LA CITADELLE
This museum boasts a private collection of over 1,000 corkscrews from around the world, including items from the 17th century to the present day.
84560 Menerbes.
Tel: 04 90 72 41 58 – www.domaine-citadelle.com
---
THE VINE AND WINE MUSEUM AT CHATEAU TURCAN
This beautiful museum houses more than 3,000 items related to the world of 'Vine and Wine', and also features a reconstruction of a cooper's workshop and winemaker's laboratory in the 1900's.
Tel: 04 90 09 83 33 – chateauturcanonline.fr
Local heritage and hilltop villages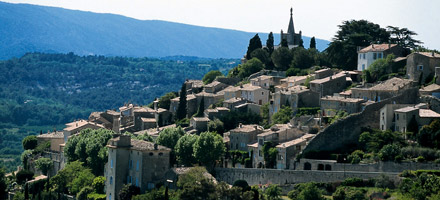 This region boasts many historic sites, with châteaux (Château de la Tour d'Aigues, Château de Lourmarin, Château d'Ansuois) religious monuments, (the Cathedral of Sainte-Anne and the Abby of Notre Dame de Sénanque) and hilltop villages such as: Oppède, Grambois, Bonnieux, Lacoste, Ansouis, Ménerbes etc. The Luberon has a wealth of buildings dating from the Renaissance period, found in a number of local villages.
Ochre
Ochre is a fascinating natural pigment that has produced unique, amazing landscapes.
According to a legend, many, many years ago, Sermonde, the wife of the terrible Raimond, Lord of Roussillon, fell hopelessly in love with a young troubadour. Mad with jealousy, the Lord of the Manor killed her lover with a dagger, cooked him, and fed his heart to his wife, which she found delicious. When his wife discovered what had happened she was overcome by grief and she threw herself off the cliffs, which became stained with her blood….this, according to the legend, is the reason for the unique colours of the ochre cliffs.
---
L'enclos des Bories
Throughout the centuries, man has shaped this mineral universe. Buildings of flat stone, which span the ages, dot the rugged landscape. They were used as barns, stables or seasonal lodgings for farmers. At the end of the walk, the Enlos (enclosure) des Bories gives you a unique panoramic view over the Calavon Valley and Mount Ventoux.
Walks are available daily, between the months of April to November from 10am to 7pm.
Cost: 5 Euros (12 years old and over)
Quartier Rinardas 84480Bonnieux
Tel: 06 08 46 61 44- From 10am to 7pm