Where to eat
Bastide de la Capelongue – Edouard Loubet

At lunchtime, the restaurant dining room, with its large bay windows, is bathed in light, creating an elegant, sophisticated setting. In the evening, candles and dimmed lighting give this sumptuous location more of an intimate ambiance, set off by a golden sunset. The cuisine is exceptional, and the wine list prestigious. Edouard Loubet also offers wines from small local producers, with his own special regional selection.
Chef, Edouard Loubet – professional background
At 20 years of age, with some experience behind him and a love of his craft, Edouard Loubet and his mother opened the "Moulin de Lourmarin". 4 years later he received his first Michelin star. In 1999, at only 29 years of age, he was the youngest chef to have been awarded 2 Michelin stars. In 2005, Edouard Loubet, moved his restaurant from the "Moulin de Lourmarin" to Bonnieux and opened the "Domaine de Capelongue".
Les Claparèdes – Chemin des Cabanes – 84480 Bonnieux en Provence
Tél. : 04 90 75 89 78
Site : www.capelongue.com
---
La Fenière – Reine Sammut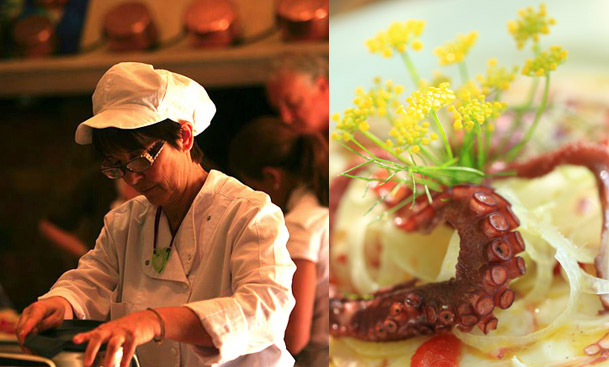 Reine didn't move to Provence until she was 14. Before then, she had lived in the Vosges region and only liked fatty bacon! In Avignon she discovered olive oil, but couldn't get to grips with it. Her pasta would stick and her omelettes were beyond scrambled. But she was a fine seamstress and intended to become a doctor. It was only when she met Guy and all of her in-laws that she started to embrace the Mediterranean – Tunisia, Malta, Sicily. She cautiously crossed the threshold of La Petite Fenière in Loumarin where Claudette, Guy's mother, allowed her to do the pastries and decorate the plates. Then came the day when Reine made the fish couscous, the lasagne and the offal dishes. Claudette could leave her to it: Reine had become a chef.
Route de Cadenet – 84160 Lourmarin
Tél. : 04 90 68 11 79
Site : www.reinesammut.com
---
La Petite Maison – Eric Sapet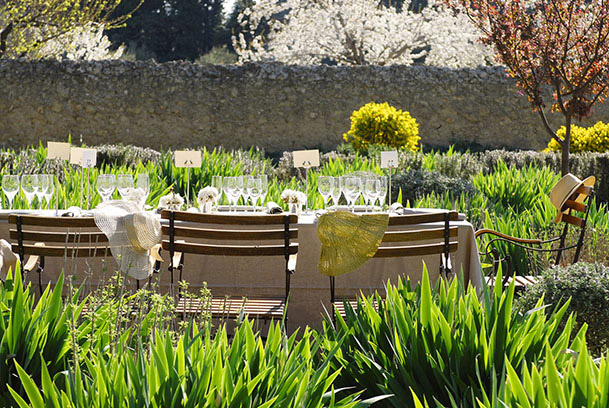 In the heart of southern Luberon, in the well-preserved medieval village of Cucuron, La Petite Maison welcomes its customers under the shade of 200 year old plane trees by the ancient village pond. The chef's daring and innovative dishes are always good value for money.
Place de l'Etang – 84160 Cucuron
Tél. : 04 90 68 21 99
Site : www.lapetitemaisondecucuron.fr
---
La Coquillade – Christophe Renaud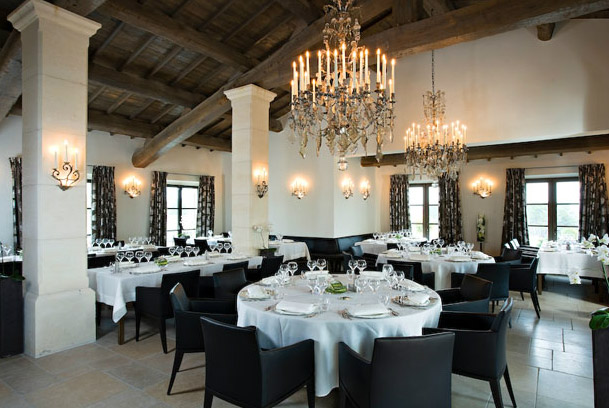 In a 30 hectare vineyard, where the wine is produced slowly and lovingly, lie tasting cellars and the "Le Gourmet" gastronomic restaurant, with fantastic views over the Luberon. The restaurant and its terrace area are modern and soberly decorated and have a chic, sophisticated air.
The tableware is exceptional and traditional in style, with the pure ring of the superb "Alessi" cutlery, "Montron" top quality steak knives, and glassware from "Chef & Sommelier" and "LSA".
The gastronomic, Mediterranean cuisine is creative, generous and refined, and the menu changes every day. "Le Gourmet" serves delicious Provençal specialities as well as spit-roast over a wood fire.
Relais & Châteaux – 84400 Gargas
Tél. : 04 90 74 71 71
Site : www.coquillade.fr