Stay with the winemakers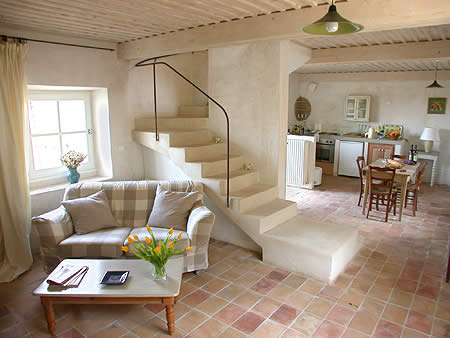 Domaine Faverot and its cottages
Surrounded by its vineyards, Domaine Faverot was formerly a silk farm, now converted into a winery, situated not far from the villages of Maubec, Oppède and Ménerbes.
Each cottage for rent is different, decorated and furnished with taste and elegance in typical Provençal style.
Mme Faverot de Kerbrech Sally
771, route de Robion – 84660 Maubec
Tél. : 04 90 76 65 16
---
Domaine de Marie & la Bastide de Marie
Situated in Ménerbes, one of the prettiest villages in Provence, La Bastide de Marie is a perfect place for relaxing and unwinding. In this delightful, tranquil setting with a cosy atmosphere, you will enjoy a break in the heart of the vineyards. Enjoy the wonderful regional cuisine, an original setting and the beauty of Provence.
Route de Bonnieux – Quartier de la Verrerie – 84560 Ménerbes
Tél. : 04 90 72 30 20
www.labastidedemarie.com
---
Château Grand Callamand
In the heart of Luberon Regional Natural Park, Château Grand Callamand has been beautifully restored by the Souzan-Delagrave family. The bedrooms, the two suites and the gîte, have been decorated with taste and look out over the swimming pool and terrace with a view over the plains of Durance. A 80m2 room is available for meetings, seminars, or training courses for businesses or the general public.
Route de la Loubière – 84120 Pertuis
Tél. : 04 90 09 61 00
---

Aureto Vignobles & Domaine de la Coquillade
Situated on a small hill in the Vaucluse, the Domaine welcomes wine-tourism. Located in the heart of the vineyards, it offers a magnificent view over the Luberon, its villages, and Mount Ventoux. It boasts a gastronomic, one Michelin Star restaurant, which will delight foodies.
Domaine de la Coquillade - Relais & Châteaux – 84400 Gargas
Tél. : 04 90 74 71 71
www.coquillade.fr
---
Château la Dorgonne (rental on a weekly basis, throughout the summer months )
An exceptional location, situated at the southern Luberon foothills , where 70 hectares of vines grow at an altitude of 350 metres among oak trees and garrigue scrubland. 6 rooms ,equipped with a dressing room and bathroom, are available.
Route de Mirabeau – D135 – 84240 La Tour d'Aigues
Tél. : 04 90 07 50 18
www.chateauladorgonne.com
---
Domaine de la Fontenille
Fontenille has been a family estate for 3 generations, and is situated in Lauris in the Luberon.
There are two gîtes (one with wheelchair access) in a green and tranquil setting, open all year round.
84360 Lauris
Tél. : 04 90 08 23 36
www.domaine-fontenille.com
---
Château St Estève de Néri
The Domaine is situated on the southern hillside of the Luberon, 30 kms from Aix-en-Provence and 2 kms from the village of Ansouis (one of the prettiest villages in France).
Rental is on a weekly basis. The cottage has a wonderful view of the Château d'Ansouis, the vineyards and the 'Mourenègre'.
84240 Ansouis
Tél. : 04 90 09 90 16
www.steestevedeneri.com
---
Domaine les Vadons
This family property is situated in Cucuron, a small Provençal village, and has a vineyard covering 7 hectares on the south facing slopes of the Grand Luberon.
You can taste the property's wines in the wine cellars or as part of a meal served at the stopover gîte in a renovated stable block.
Louis-Michel Bremond
La Resparine – Route de l'Etang de la Bonde – 84160 Cucuron
Tél. : 04 90 77 13 40
www.domaine-les-vadons.com