By Edouard Loubet - Rack of smoked lamb, in wild Claparèdes thyme, roasted in a cast-iron casserole dish, with a light infusion of Farigoule thyme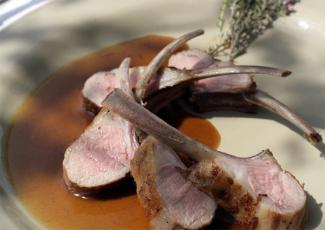 Carré d'agneau fumé, au serpolet des Claparèdes, rôti en cocotte de fonte, une légère infusion de thym à la farigoule
(Rack of smoked lamb, in wild Claparèdes thyme, roasted in a cast-iron casserole dish, with a light infusion of Farigoule thyme)

Serves 4 people:
2 racks of lamb (with 9 ribs).
1 carrot
1 onion
¼ of a leak
2 bouquets of Farigoule thyme
1 twig of laurel
½ l of red wine
Off-cuts of the racks of lamb
Sugar and salt
1 - The meat
Clean the racks of lamb by removing the meat between the ribs (take out the spinal bone if there is one). Put the off-cuts to one side to use for a stock. Heat the frying pan with a spoonful of butter and oil. Season the lamb on both sides with salt and pepper. Wait until the butter if hot enough and then add the lamb. Brown the meat on both sides and then put in the oven for 3 minutes at 250°C (the lamb should be cooked very rare). Take the lamb out of the oven and remove the fat from the frying pan.
---
2- The sauce
Make a lamb stock. Fry the remaining meat together with the onion and the carrot cut into cubes. Leave them to brown, then add the red wine. Add 2 litres of water and simmer for 2 hours, then strain. Put 2 dessert-spoons of sugar, 3 sprigs of rosemary and 3 sprigs thyme, into the pan and leave to caramelize. Add 1 dessert-spoon of chicken stock. Turn-up the heat, add the stock and then thicken by adding potato starch. Strain and add a twig of thyme and rosemary to infuse in the sauce.
---
3 . Garnish
Serve with a light gratin (made with either potato or marrow)
---
4. The finishing touch
Cut the dry edges off the racks of lamb. Cut the small ribs – 5 per person - and arrange in a circle on the plate. Heat under a salamander broiler, cover the meat with the sauce and decorate with a little thyme.
For further information about the chef, the restaurant and the menu, check out the www.capelongue.com website.