By Edouard Loubet - Ecrasée of Ratte potatoes with vacherin cheese and Claparèdes truffles, with Mona Lisa tagliatelle, steamed in white wine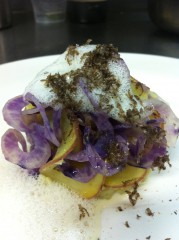 Ecrasée de pomme ratte au vacherin et truffe des Claparèdes tagliatelles de Mona Lisa à la vapeur de vin blanc
(Ecrasée of Ratte potatoes with vacherin cheese and Claparèdes truffles, with Mona Lisa tagliatelle, steamed in white wine)
Serves 4 people:
8 nice Ratte potatoes
2 Vitelottes potatoes (variety of potato that is purple in colour)
2 Mona Lisa potatoes from Pertuis
¼ of Vacherin du Mont d'Or (cow's cheese)
2 shallots
½ of a nutmeg
8cl of white wine
A pinch of fine salt
A pinch of milled pepper
5 g of smoked lardons (cubed bacon) – optional
16cl of milk
8cl of truffle juice
20g of black tuber Melanosporum truffles, 12 thin slices and the rest to be used for the écrasée.
2 cl of olive oil
Truffle oil Q.S.P
1. L'écrasée of Ratte potatoes
Cook the potatoes with their skins in salted water for 20 minutes. When cooked, peal the potatoes and cut them into small cubes. Place the cubes in a cul de poule (special basin for whisking eggs) with a dash of olive oil, place in a pan and smoke them by burning sawdust for 7 minutes. Then cover with cling film.
---
2. The Vacherin sauce
Cook the smoked lardons over a gentle heat in a small pan, along with the sliced shallots and a little olive oil. Add the white wine and leave to cook for 10 minutes. Strain the sauce. Add in the Vacherin cheese and mix, then season with salt and pepper. Put to one side.
---
3. Truffle "reduction"
Boil the milk and truffle juice together, so it reduces to half its original volume and is slightly elastic.
---
4. Presentation
Reheat the Ratte potatoes for 30 seconds, add the truffle reduction. Crush the potatoes and the truffles off-cuts, place in a ring (a mould that maintains a round shape). Put the vitelottes, the Rosevalt and the Mona Lisa potatoes through a vegetable cutter that cuts them into spirals. Mix them up and place in the wooden steamer basket and steam using white wine. Place the écrasée in the oven for 2 minutes. Arrange on a plate and add 4 slices of truffle, arranged in the form of a rose window, then nest the spirals of potato on top. Emulsify the Vacherin sauce and pour over the potatoes